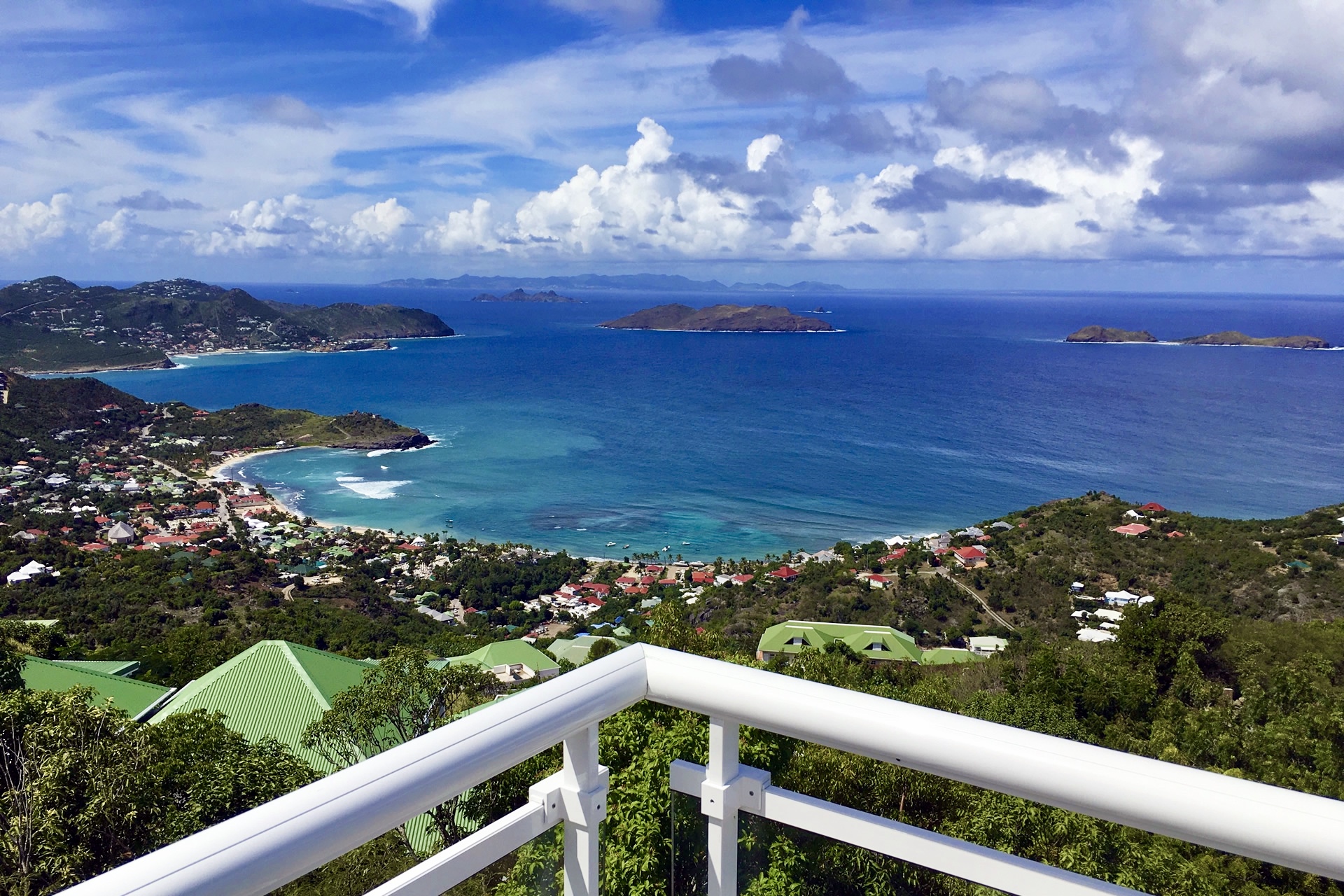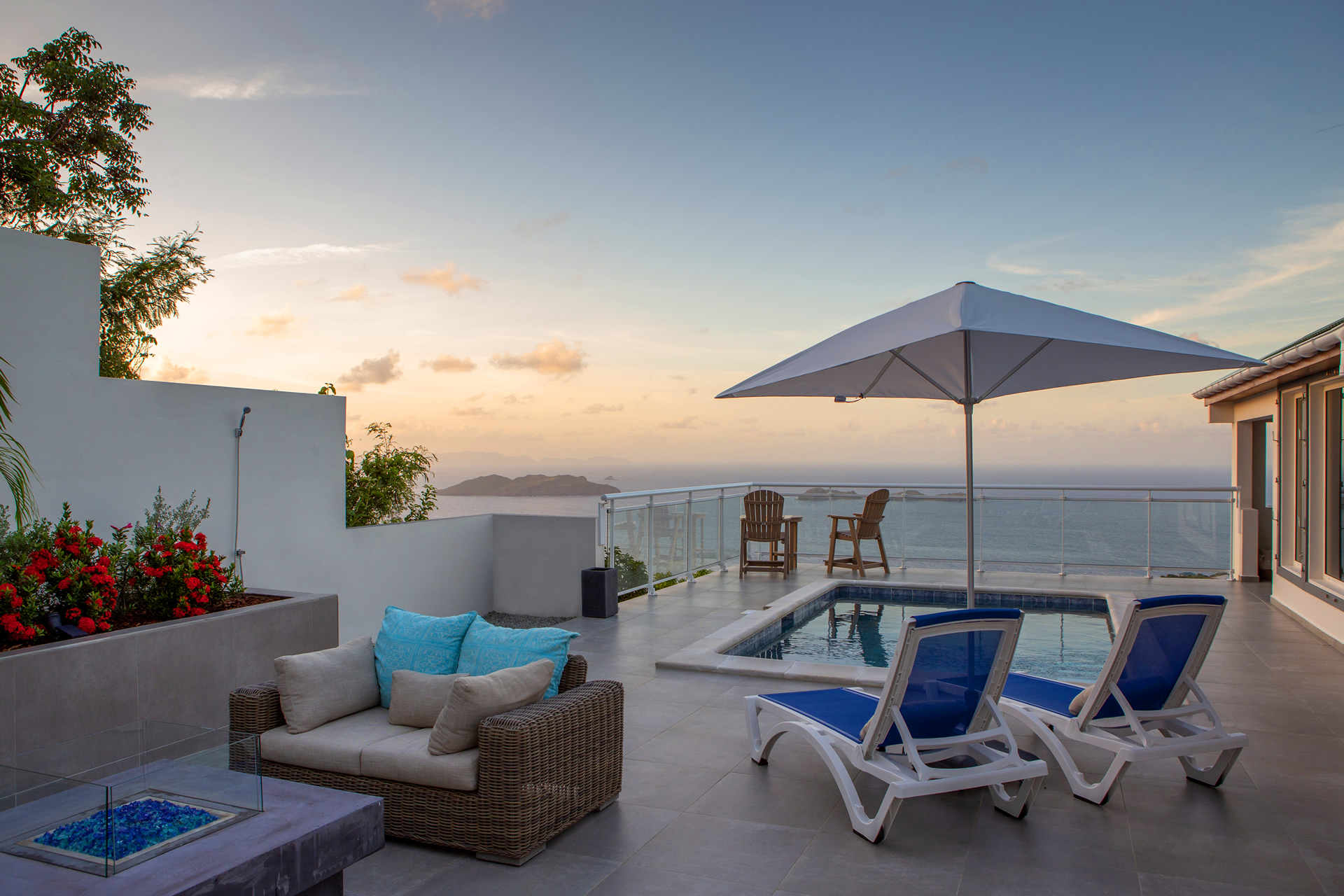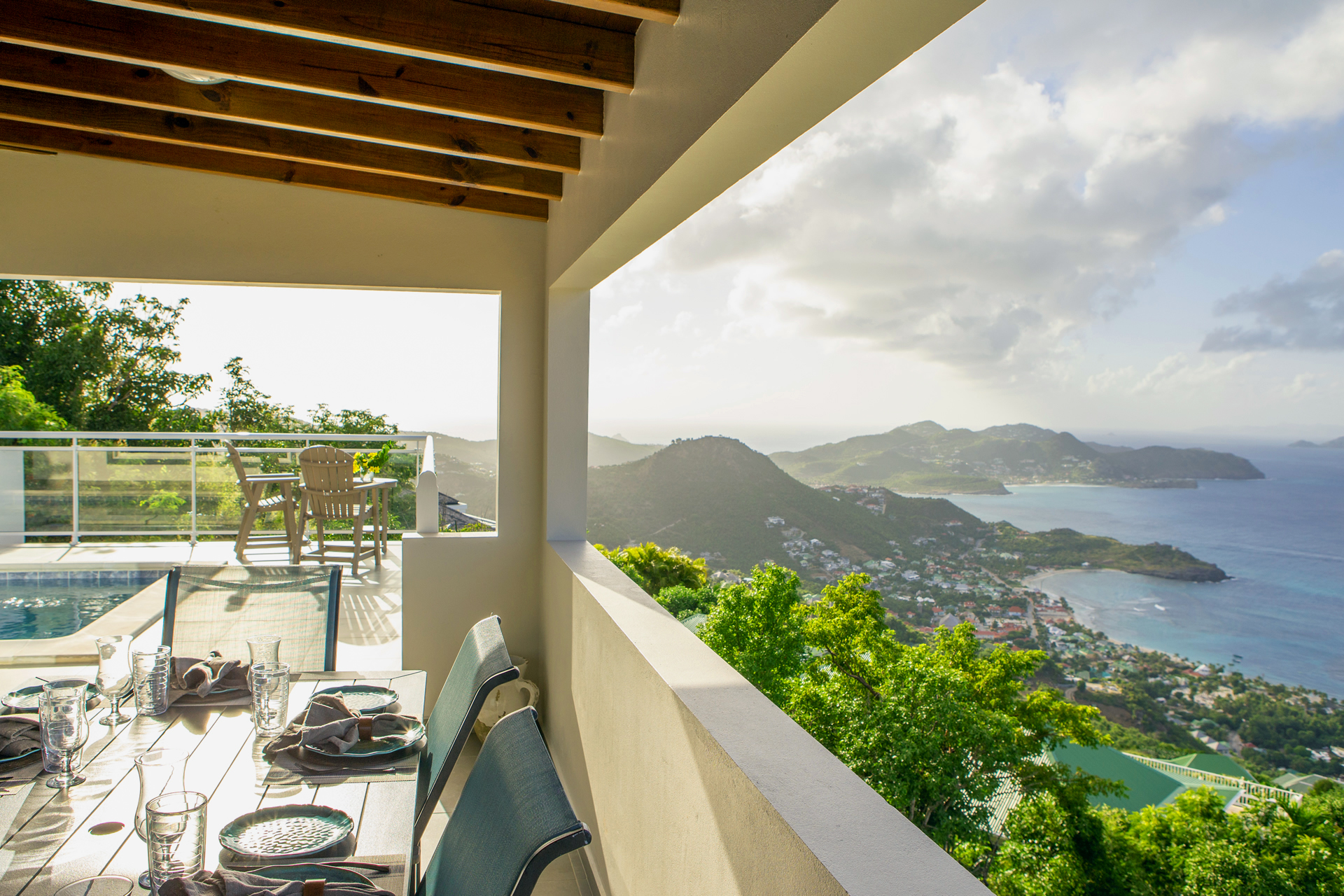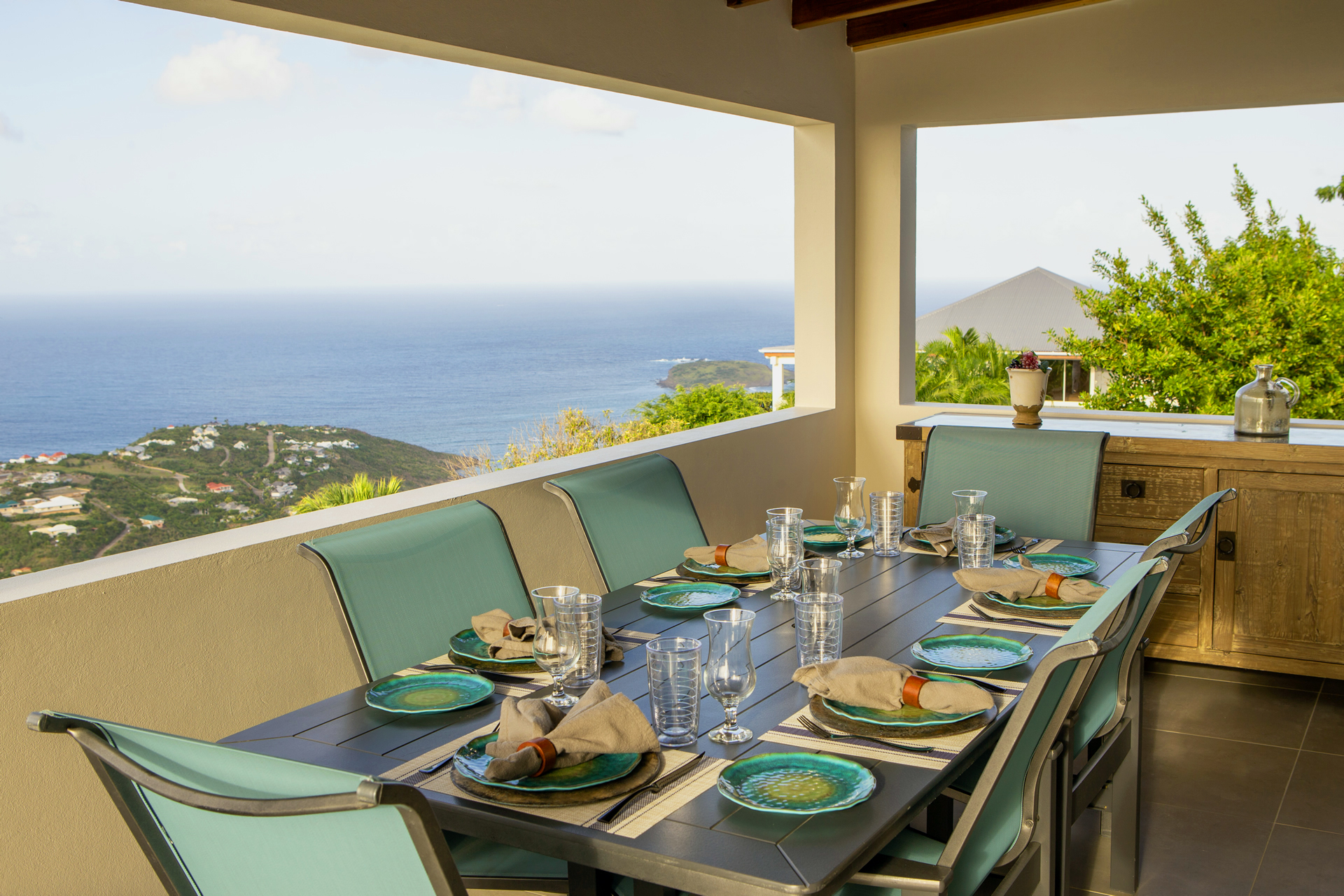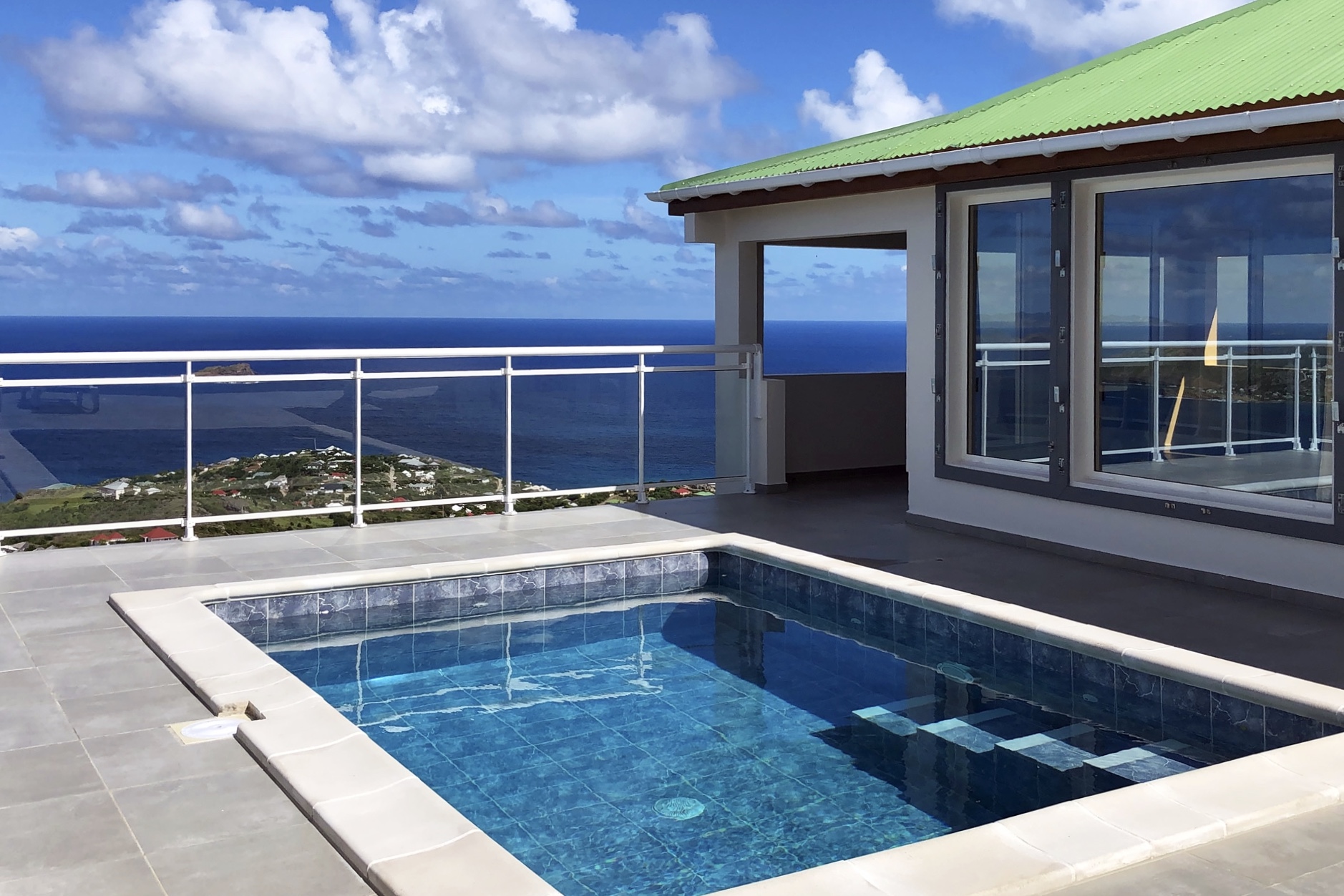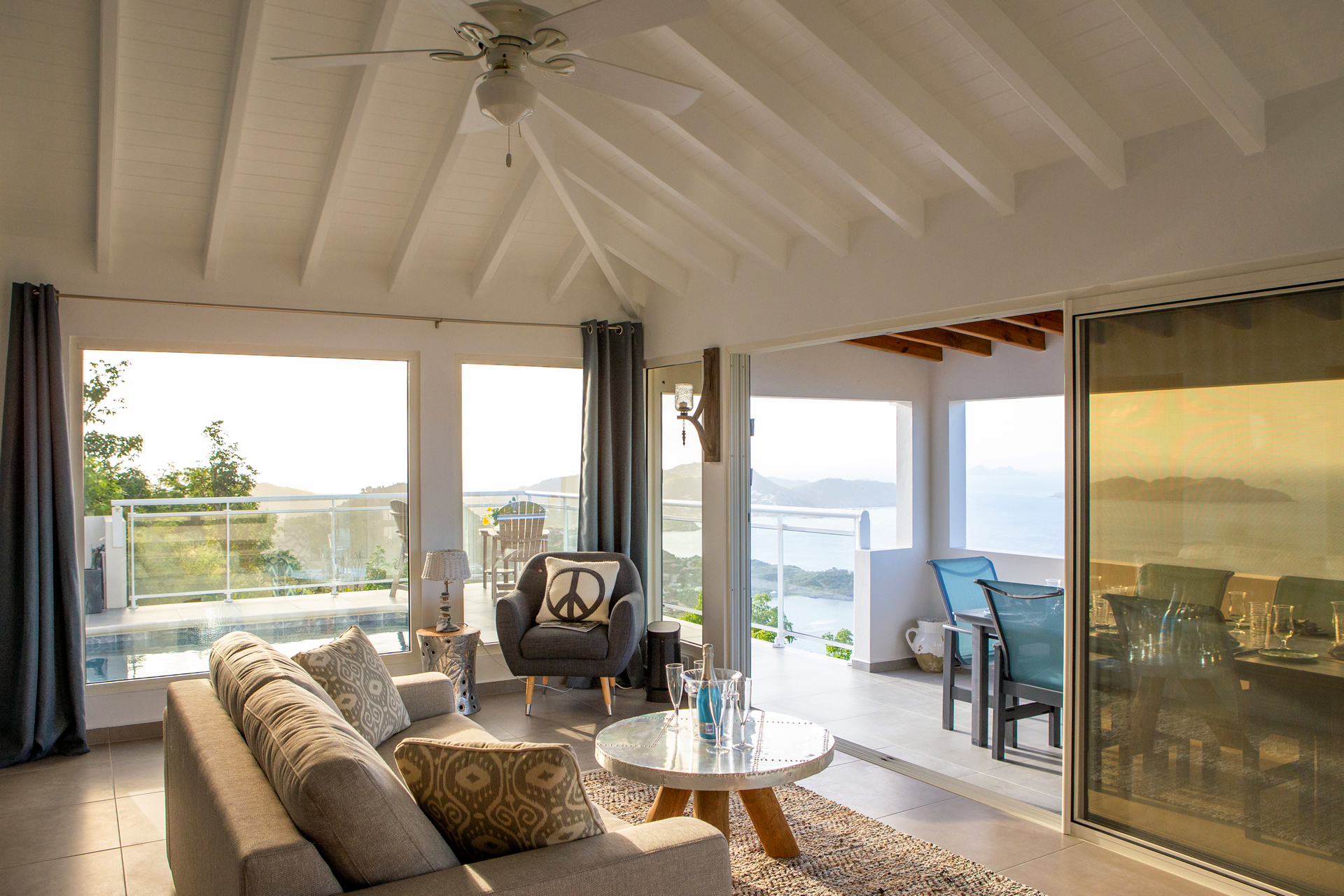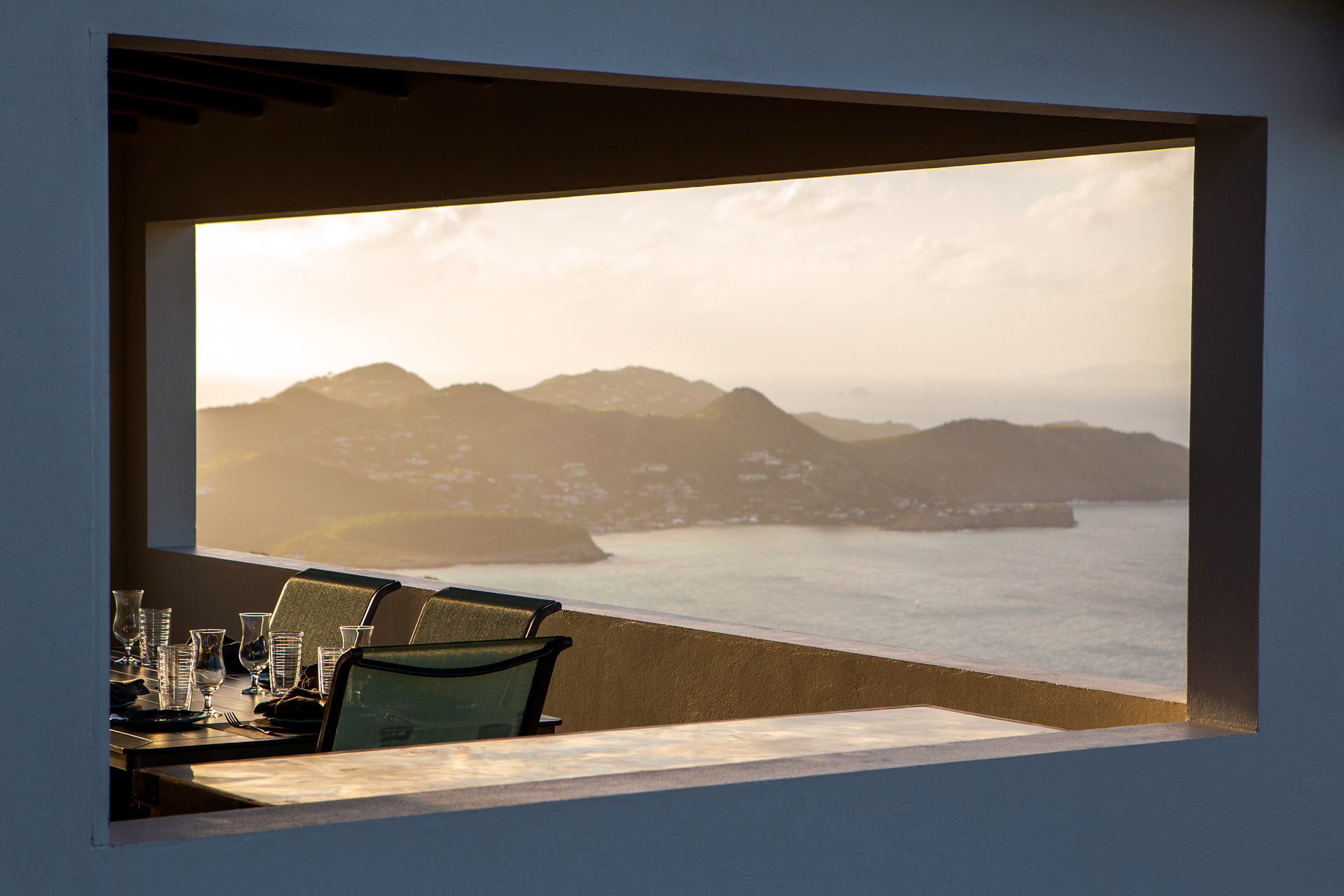 Slide One
VILLA BELLA BART
A VILLA ABOVE IT ALL!
Villa-Bella-Barth-Saint-Barthelemy-St-Barths-IMG_7341
Villa-Bella-Barth-Saint-Barthelemy-St-Barths-IMG_7147
Villa-Bella-Barth-Saint-Barthelemy-St-Barths-IMG_7180
Villa-Bella-Barth-Saint-Barthelemy-St-Barths-IMG_7192
Villa-Bella-Barth-Saint-Barthelemy-St-Barths-IMG_7195
---
OVERVIEW
A Villa Above It All!
Villa Bella Bart is the Perfect Getaway on St Barts.
On one of the highest spots on St. Bart, Villa Bella Bart, a luxurious one bedroom located in peaceful Vitet, is the perfect St. Barth getaway.
Villa Bella Bart offers amazing views of the Caribbean Sea and neighboring islands, St Martin, Anguilla & Saba. Witness the most vibrant Caribbean sunsets from the private pool, dining & kitchen area and deck. The lights of the distant villas nestled in the hills is pure magic!
VBB is a brand new well-appointed chic villa. A private gated drive presents the entrance which invites to a stunning European interior courtyard, perfect for al fresco dining. The private villa offers a BBQ area, a perfectly-sized pool and a relaxing lounge area with stunning ocean views.
The villa's bedroom has a king-size bed and an en-suite bathroom. The glass sliders open to the living area and out to the expansive deck. The sleek kitchen and a relaxing living room lead to incredible Caribbean sea vistas. Villa Bella Bart provides optional sleeping as well with the comfortable pull-out couch in the living room (Villa Bella Bart can comfortably sleep 4).
The contemporary décor incorporates a palette of crisp whites and stunning greys accented by pops of "Bleu Marine" (Dark Blue). Amenities include meet-and-greet at the point of arrival, welcome basket, WiFi, Ligne St Barth bath products, air conditioning and ceiling fans, a fully-equipped kitchen (microwave, oven, Nespresso & Lavazza coffee machines, juicer / blender, toaster, dishwasher), a flat screen television, bathrobes, beach items and a safe.
Many additional amenities available upon request!
---
GALLERY
---
Click Here To Book Villa Bella Bart Today!
---
AMENITIES
INDOOR AMENITIES
Air Conditioning
Ceiling Fans
Fully Equipped Kitchen (Microwave, Nespresso and Lavazza Coffee Machines, Juicer / Blender, Toaster)
Dishwasher
Flat Screen Television
Internet Access / WiFi
Desk
Iron / Ironing Board
Bathrobes
Hair Dryer
Safe
Ligne St Barth Bath Products
OUTDOOR AMENITIES
Swimming Pool (12′ x 16′ – 5′ deep)
Outdoor Living Area Lounge Area
Al fresco Dining
Gas BBQ Grill
Outdoor Shower
Sun Loungers
Outdoor Sound System
Beach Chairs / Towels / Cooler
Private Parking & Driveway
---
STAFF & SERVICES
Experience The Entirety of Island Opulence.
Villa Bella Bart provides a number of add-on services including Masseuse, Professional Concierge and Personal Chef.
Arrival Concierge and Complimentary Transfer to Villa Bella Bart
Car Rental Coordination / Preferred Car Rental Provider: TopLoc
Daily Maid Service except Sundays and French Holidays
Pool Service
LOCAL SERVICES
Villa Bella Bart also use and heartily recommend a local French-trained massage therapist (ostéopathe) who will treat you on-site overlooking the beautiful vista, an excellent French hairdresser (coiffeuse) and arrange a local car rental.
---
AVERAGE WEEKLY RATES
| | |
| --- | --- |
| Festive Season: | $ 14,000 [Dec – Jan] |
| Winter Season: | $ 11,000 [Jan – Mar] |
| Summer Season: | $ 7,000 [Apr – Oct] |
Rates are based on an average per week in USD.  Minimum night stays vary by season.
Email [email protected] for shorter stay requests.
Rates may be subject to change without notice, please see our terms of booking for detailed information.
CHECK-IN AND CHECK-OUT TIME:
Check-in time: 3 PM
Check-out time: Noon
DEPOSIT:
A deposit of 30% of the property rental is due at time of booking.
All rental contracts are valid once deposit amount is received and the booking form has been duly signed and received. A confirmation of the booking will be sent to you.
PAYMENT OF THE BALANCE :
The balance of the payment must be paid at least 60 days before arrival. If the balance is not received by the due date, VBB shall be entitled to cancel the booking without prejudice to its claim for cancellation charges, and to retain the deposit. For booking made within 60 days of arrival date, the Client will be required to pay the full cost of its rental at the time of booking. For the Festive period, 30% deposit at time of booking and the full prepayment 120 days prior to arrival.
CANCELLATION BY THE CLIENT:
It is agreed between the parties that should the Client wish to cancel all or any part of its booking, or that the booking is cancelled by VBB due to non-payment, then, VBB shall be entitled to the following percentage of the gross rental cost:
* 61 days or more prior to scheduled arrival: 30%
* Between 60 and 31 days prior to scheduled arrival: 50%
* 30 days or less prior to scheduled arrival: 100%
For Festive Period:
* 91 days or more prior to scheduled arrival: 30%
* Between 90 and 61 days prior to scheduled arrival: 50%
* 60 days or less prior to scheduled arrival: 100%
Cancellations must be received in writing by VBB.
No-shows, late arrivals, changes in number of people in the Client's group after arrival and early departures are all non-refundable.
ALTERATIONS OR CANCELLATIONS:
Though it is unlikely that VBB will have to make any changes to confirmed arrangements, it does occasionally happen for reasons beyond VBB control. VBB will advise the Client at the earliest possible date. If for any reason beyond its control, VBB is unable to provide the Client with the property that he has booked, VBB will cancel the booking and refund the amount paid to VBB for the villa. VBB will not be liable for any cancellation charges for travel arrangements.
INSURANCE:
Travel insurance, Homeowners Insurance or other policies may cover you for certain misfortunes, unexpected events and delays which might interrupt, delay or cancel your travel plans. The appropriate coverage is the responsibility of the Client.
According to French Insurance Laws, transportation of Guests by Butlers and Staff are restricted to arrival and departure transfers only. Taxis or rental cars may be arranged for any other transport requirements.
TRAVEL VISA:
Please double check with you Embassy if a Visa is required for your travel.
---
LOCATION
Villa Bella Bart is perfectly located. The advantage of the island is nothing is far from the Villa. Just 20 minutes from Gustavia, 15 minutes from the airport SBH, 10 minutes from St Jean & the Eden Rock – Saint Barths Hotel, 5 minutes from Lorient, 5 minutes from Hotel Christopher Saint-Barth.
---
CONTACT VILLA BELLA BART
For reservations or more information on Villa Bella Bart,
Book Now By Clicking Here!
Email VBB: [email protected]
US Phone: +1 858 766 1560
St Barth Local Phone: +590 690 30 70 24
Or use the form below:
---